What the FinnoScore tells us: How do good banks communicate with their customers online?
Social media is also becoming increasingly important for banks
---
When you think of well-put together social media accounts, the first thing that probably comes to mind is online retail: It is the first place the customer comes into direct contact with the provider. Social media is also becoming increasingly important for banks. Today, we are going to show you some examples of great social media presences in the banking sector to help you improve the way you deal with your customers.
If you are looking for the banks with the best social media presences, then come to us: You can find our FinnoScore here: FinnoScore – See for yourself how approximately 200 banks from 24 countries fare.
Last month, we announced that we would be publishing an article about best practice in social media. Today, we have presented three banks who have really proven themselves as role models in communications in recent years:
1. The ING Bank from Poland
The homepage provides direct links to social media such as Facebook, Twitter, Instagram or YouTube.
The ING Bank reaches many subscribers, who actively communicate with the bank. Their YouTube videos often receive more than 100,000 views. This is best practice: other banks can only dream of numbers like these. One reason for this success is the personal proximity and up-to-date nature of the responses from bank employees. Instead of ready-made, set phrases, it is clear that those behind the responses are real people, who deal with problems individually and actively offer assistance. The success of the videos is largely due to great effects and a good dose of humour. These make it easy for users to identify with the characters presented.
On LinkedIn, the ING Bank's presence on business social media features exciting content. The posts differ from those on Facebook or Twitter and are specifically geared towards the LinkedIn target group. The ING Bank focuses on topics that are of interest to everyone, such as "How to found a company online" or "How to avoid procrastination".
2. The VakifBank from Turkey
Here, social media is linked to the homepage in an especially clever way: The focus is on icons containing hyperlinks. A clear introduction is provided to explain why customers should contact the bank via these particular channels.

The many YouTube videos are an example of the ideal presentation: More than 1 million views is an astonishing figure for a bank. This is due to the dynamic video processing and the fun factor, as well as the fact that they last no longer than 30 seconds. A playful element is provided in the form of "Vibi" – the mascot and voice assistant in one.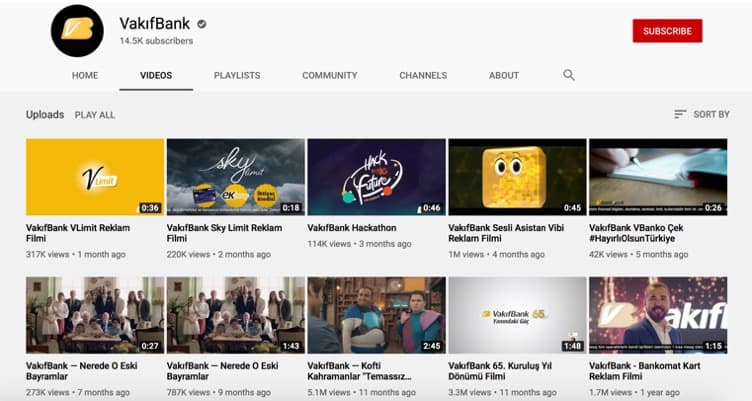 3. The Swiss bank Valiant
This Instagram account really impressed us: Featuring atmospheric pictures that play with the company's colour, purple, they portray a lifestyle that addresses the customer's expectations on an emotional level. A truly successful presence!
A summary of our tips:
1. Good content matters:
Short and sweet messages reach a large audience.
2. Customers need support:
Address your customers personally. Share positive messages, using humour where possible. Never let negative comments go unanswered.
3. Use videos:
Address your customers on an emotional level with a dose of humour and relatable characters. Adapt the quality of the videos/images to your corporate identity.
4. Flexibility wins customers:
Coordinate your content and wordings on the different channels. LinkedIn and Twitter are rather serious, while YouTube and Facebook allow for a more playful touch.
5. Consistency is key:
You can only reach your customers through regular posts!
At Finno Consult, we help you to become better at this. With our wealth of ideas and experience in the banking sector, we offer you solutions tailored to your needs. Have we caught your attention? Contact us and find out how we can optimise your performance.
---