Study: Finnoscore 2022 – Taking it Easy is Not an Option!
The Finnoscore 2022 shows that banks can't afford to rest on their laurels.
---
In recent months, some of the most successful players in the last Finnoscore ranking have lost significant ground, while other banks have made strong gains in a short period of time. New banks are no longer necessarily the prodigies of the industry -–some established banks are also putting their foot on the gas.
Download the entire study as a PDF and learn more about:
Detailed rankings
Key lessons
Winners and losers
Backgrounds
For the study with an additional focus on the DACH countries [in German] please click here.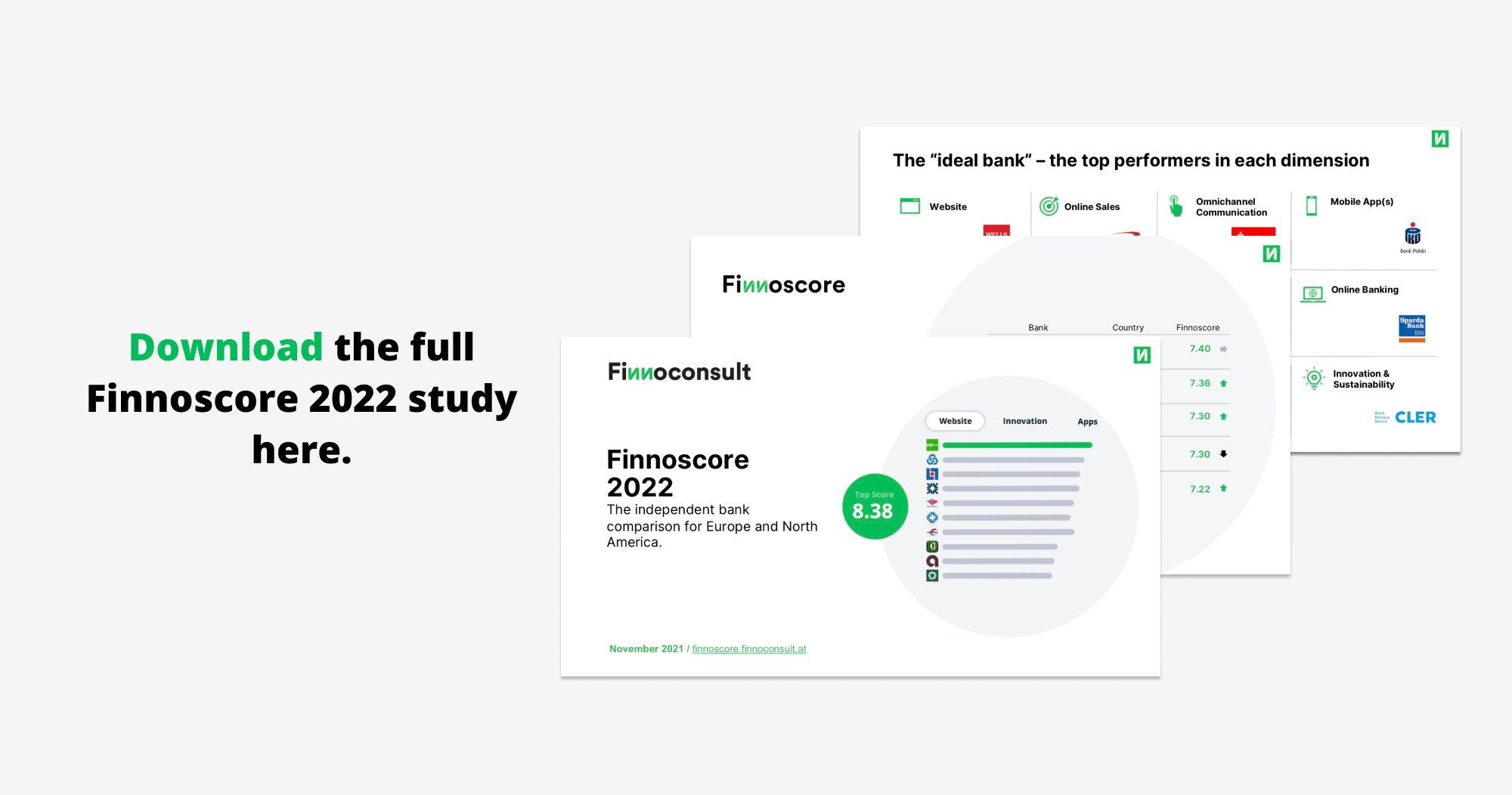 The pandemic is still here and so the overall digital presence will remain the central interface between banks and customers for the foreseeable future. A good overall impression is crucial for success. Individual features such as great, new online banking or a user-friendly website don't make a lot of difference if they're not embedded in a larger whole. The Finnoscore 2022 is crystal clear here: those who consistently take a holistic approach have moved up; those who just make cosmetic or superficial changes lose their place. 
These are the winners and losers of Finnoscore 2022:
Traditional banks fight back
Surprisingly, some traditional banks have performed well this year, even overtaking the new banks in some countries. For example, the Austrian Erste Bank became the winner in the DACH region and moved into 2nd place internationally out of more than 220 banks. Chris Berger, Co-Founder of Finnoconsult, notes: "Erste Bank, thanks to its increased focus on customer acquisition, loyalty and sustainability, was able to improve significantly compared to the previous year. Erste Group has also come out on top in the international ranking this time – as no less than 3 banks of this banking group can be found among the top 5 of 220 banks". The same goes for Sparda-Bank BW: this time, it came a long way to reach the top: 2nd place in the DACH ranking and 5th place in the international ranking make the bank the biggest climber of the year overall. 
Neobanks on the rocks
This time, the picture is completely different at a number of direct banks, particularly at N26.
"N26 is struggling with its profitability. To keep up with the market and continue to grow rapidly, it has thus expanded its product range even further. But this has also meant that the simplicity of the offer has been lost," says Chris Berger. They haven't managed to pull off the balancing act between expansion and clarity, the way they present themselves to customers has worsened and taken their ranking with it: N26, last year's winner, has slipped dramatically: they've only managed to scramble to 17th place in the German ranking. The Swiss Neon is in a similar situation; it has also fallen sharply in the national ranking.
The market remains hotly contested. Of course, customer loyalty is a key issue here. For this reason, in the DACH region, between 73% (A) and 100% (CH) of the banks offer various forms of customer loyalty programmes and ecosystem approaches. 
On top of this, sustainability is also becoming an important issue. Around 45% of banks have now implemented initiatives that include products or employees.
And finally, here's an overview of all international and DACH winners of Finnoscore 2022:
What have you taken away from the Finnoscore 2022?

 
Learn from the best to optimise your own performance. We've put together the "ideal bank" for you, with the top performers in the Finnoscore 2022 dimensions:
If you want to know how you can implement these findings and the other Finnoscore ranking insights for your bank, contact us and we will work with you to find customised solutions for your needs.
---