What are banks and fintechs doing for their self-employed and SME customers during the coronavirus crisis?
The crisis is causing problems for the self-employed and SMEs. How are banks helping these customer segments?
---
In our latest article about how banks are handling the coronavirus crisis, we told you how they are communicating with private customers via social media. This time, we want to describe how banks and fintechs are supporting their business customers.
As well as banks, we will also take a close look at the best-known fintechs for self-employed and business customers in Germany and Austria. Read our analysis and find out if banks or start-ups are performing better in this segment.
German banks help their business customers during this coronavirus period mainly by providing information
At Deutsche Bank, the focus is on questions and answers, and there is also a podcast on loans from the German Government Development Bank (KfW). In addition, Deutsche Bank publishes interviews with specialists and provides a daily update on the progression of the coronavirus crisis.

Deutsche Postbank only offers its business customers information on financial assistance. There are links to this information on their homepage.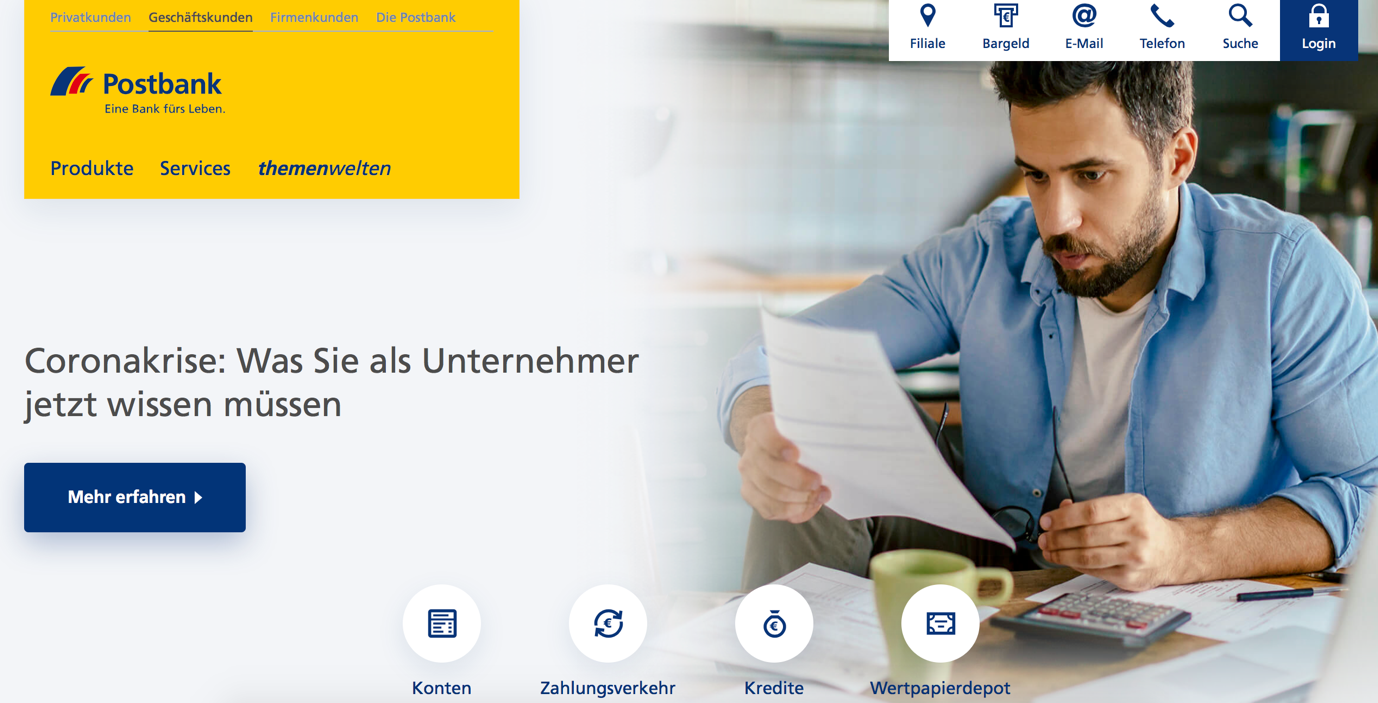 Commerzbank concentrates on the KfW aid programme. It explains how customers can apply for a loan online. There is also a question and answer section, where customers can, for example, find information about borrowing rates.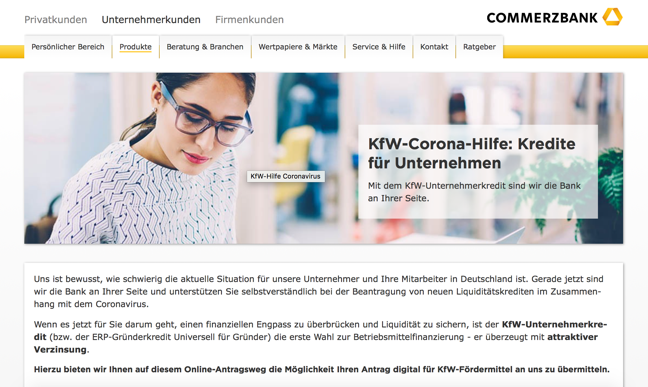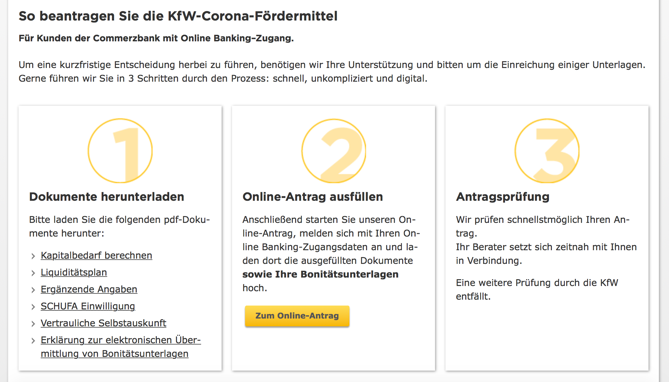 At the Volksbank-Raiffeisen Group, the KfW development programme is part of their financing offers. They also offer their own digital banking solutions.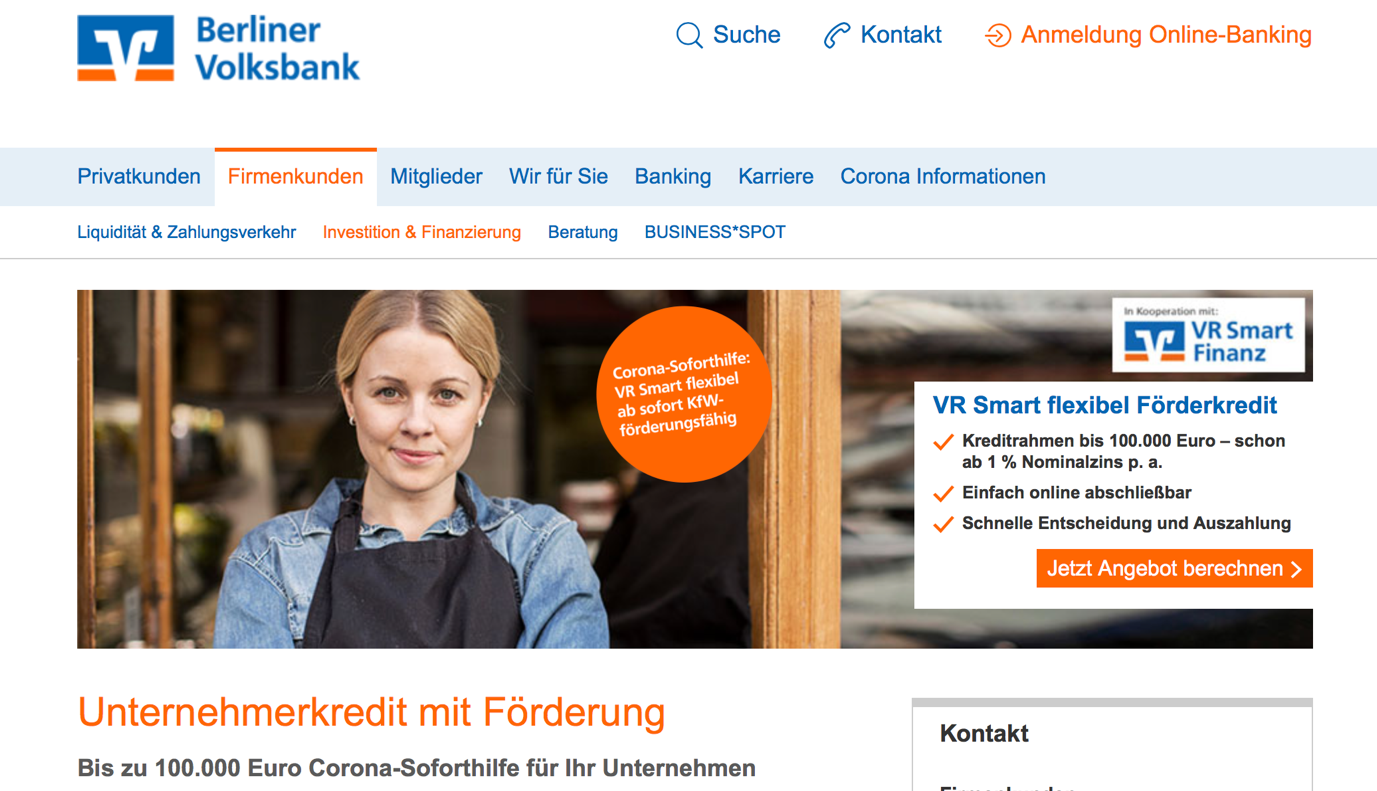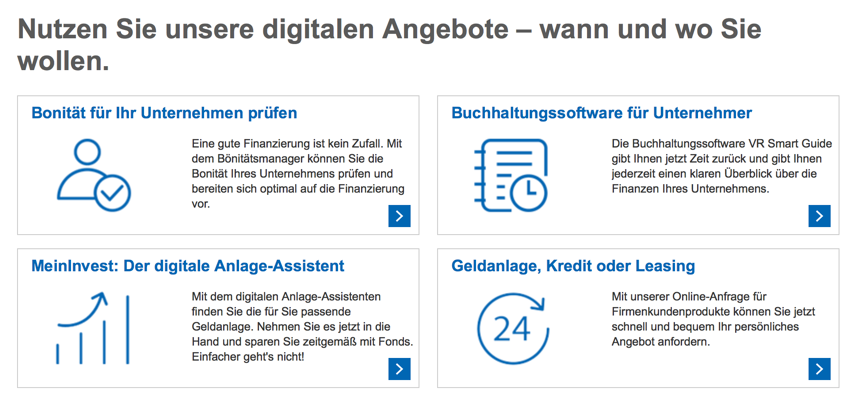 The Sparkasse banks do things a little differently: Sparkasse Köln Bonn has its own site for practical information about the coronavirus crisis. They explain the government aid packages. They also have their own internal programme: instalment suspensions of up to 6 months without processing fees. You can apply via online banking, without having to go to a branch. Sparkasse Köln Bonn also publishes testimonials from satisfied customers during the period of the virus. This helps to keep customers calm. Thumbs up!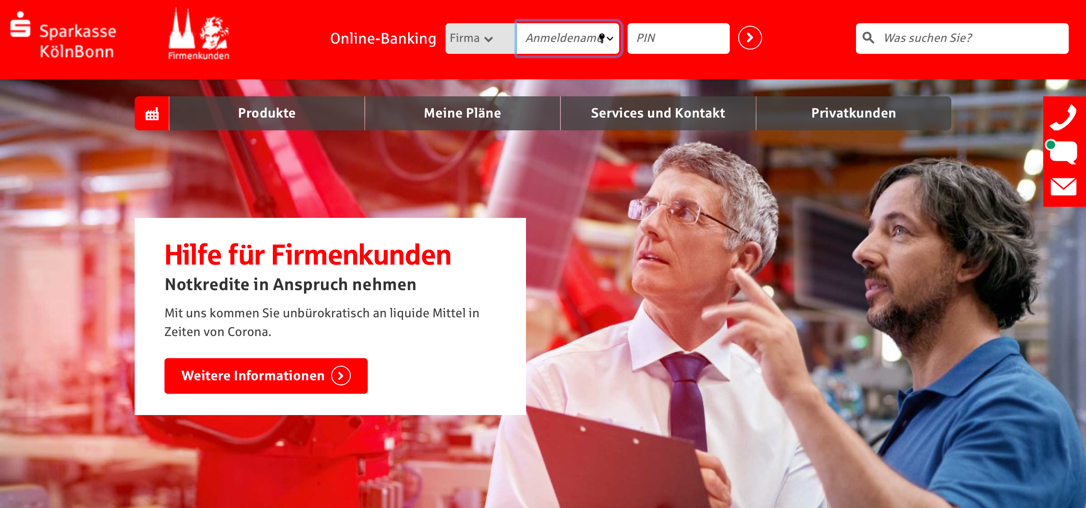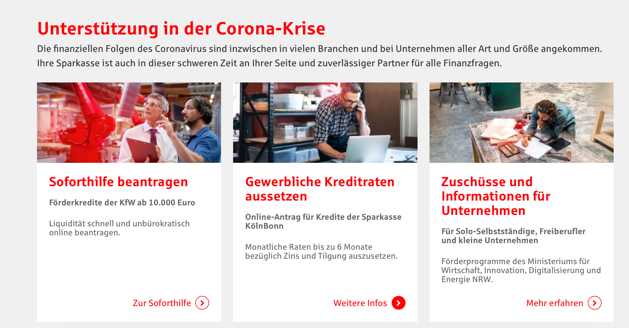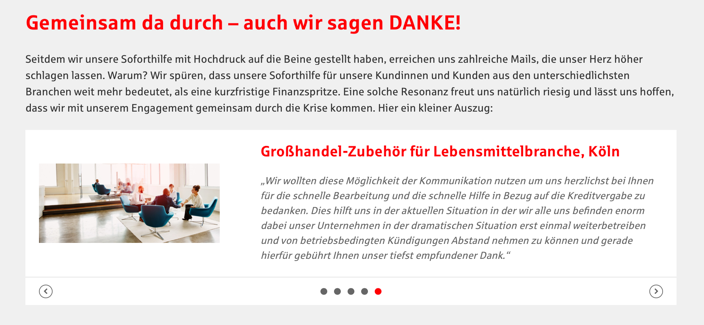 In Austria, banks support the self-employed and SMEs with several programmes.
Bank Austria has some very interesting initiatives. All banners on the site for corporate customers and the self-employed carry a coronavirus message. In addition to several financing options, the "From the couch" initiative there allows companies to post video tutorials. In return, they get €80 per video and the opportunity to advertise their company.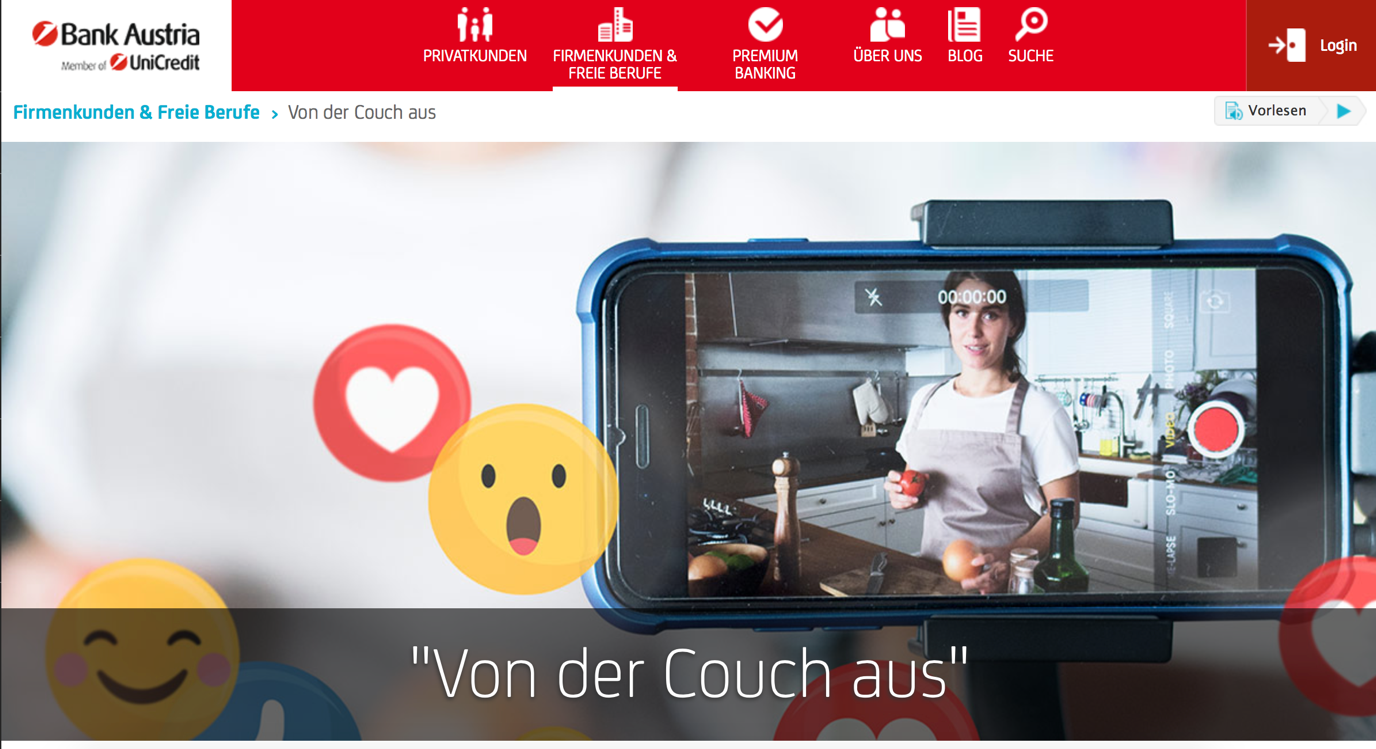 Erste Bank has organised a helpline to support its business customers. There it offers interest and instalment deferrals, bridging finance and access to bonds, state aid and subsidies. It also answers practical questions that corporate customers should ask themselves during the crisis (e.g. options for effective cost reductions).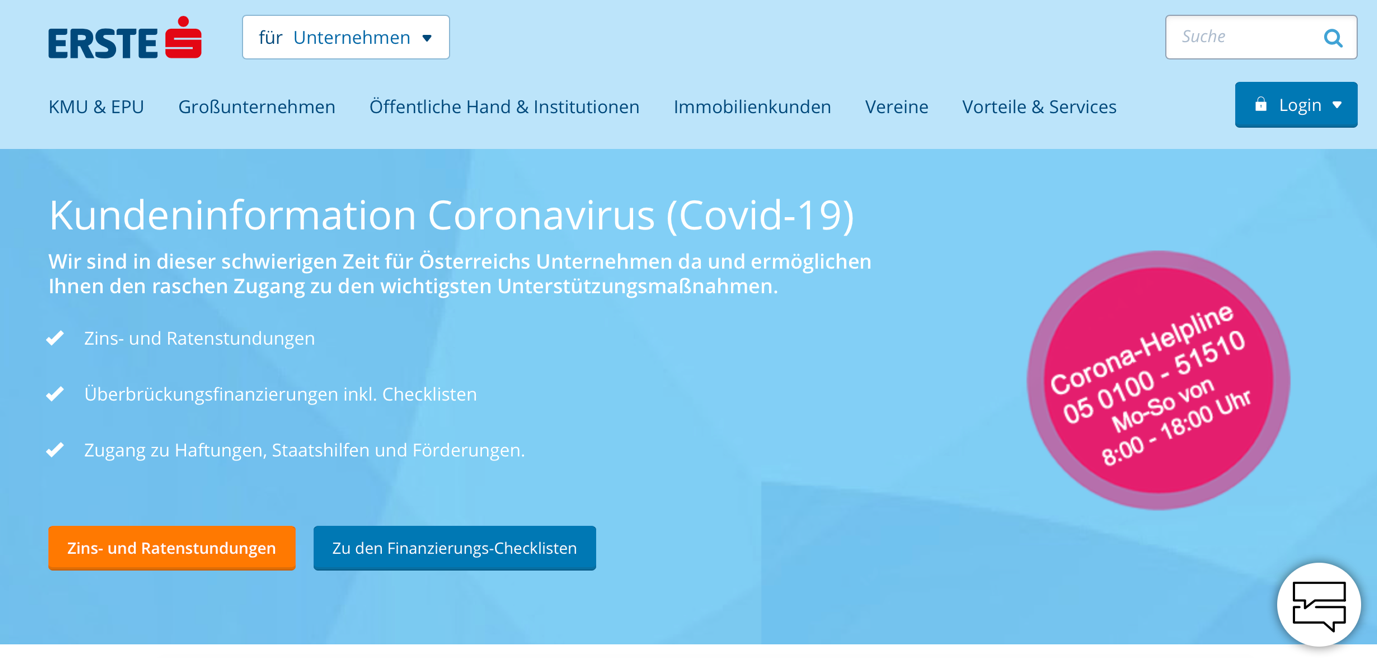 Raiffeisen Bank has its own section for the coronavirus crisis. There you can find information about subsidies and financing options for corporate customers, the self-employed and farmers. The site is not particularly well structured: the information for a specific customer segment is hard to find in among the many text segments.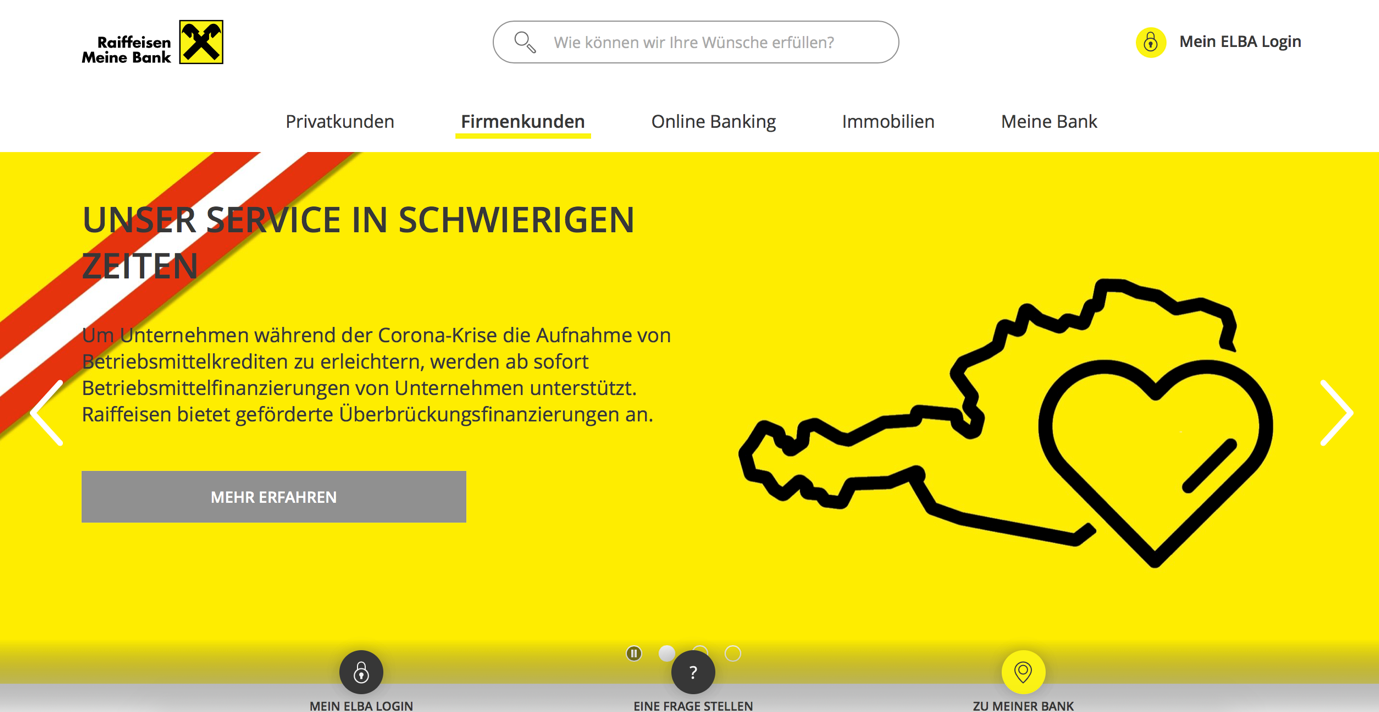 Challengers in the banking sector, such as N26 and Revolut, do not focus on coronavirus measures for business customers on their homepages. In their blog section, they list all government initiatives. However, they do not have their own programmes to support business customers.
Holvi and Fyrst, specialists for the self-employed and SMEs, take the same approach: they do not offer any programmes of their own, aside from issuing a list of state-support initiatives. 
Bunq offers even less: neither their website nor their blog provide any information or support for business customers. The few blog articles about the virus are aimed at private customers. 
The measures from Kontist have come as a positive surprise. There's nothing on the homepage about the coronavirus. However, their blog focuses on helping customers during the crisis: there is a free hotline for legal questions, appointments for personal advice and webinars, plus support when applying for tax relief.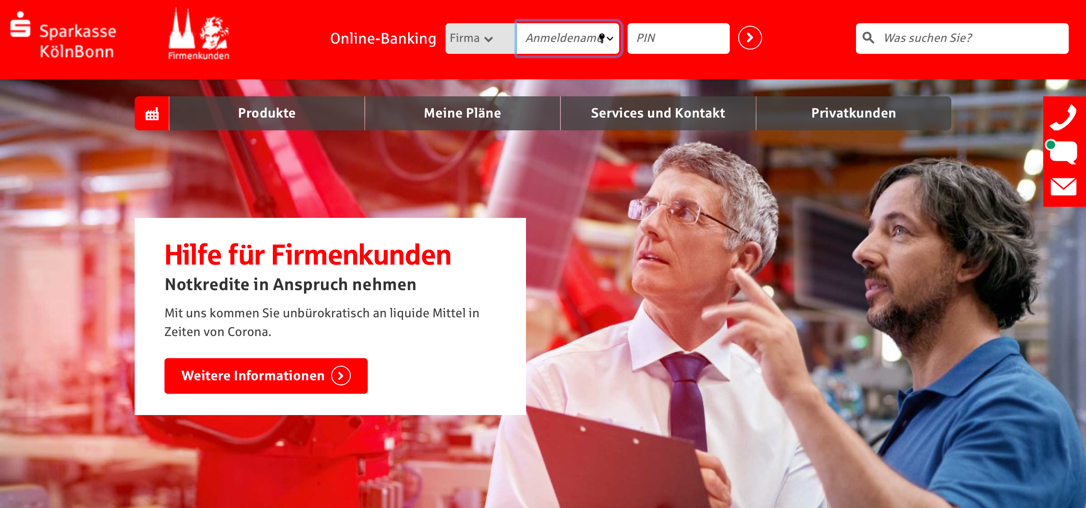 In summary, the result is as follows:
The Winners
The big players do better in a crisis. They can afford to implement their own measures. Unfortunately, many large banks in Germany still do not offer more than customer information. 

The situation is better in Austria, where many banks are proactive and support their customers with more than just the government-aid programmes.


The little guys
Fintechs do not seem to be strong enough to launch their own measures to support their business customers.


Your benefits
As a business customer, it will be more beneficial to you to be with a traditional bank during this crisis!
Are you responsible for SMEs at your bank?
Are you thinking of improving your digital services for your SME customers? Do you need help coming up with what form this might take? Then get in touch and together we'll find the best solution for your bank and your customers.
---